A Saanich Home Renovation Results in a Beautiful, Bright, Feature-worthy Space.
An Outlook Project Management home renovation is featured in the Fall/Winter 2017 edition of Spruce Magazine. "Bright Ideas" spotlights our work transforming a 3,400 sq. ft. Cordova Bay split-level into a bright and open show-stopper.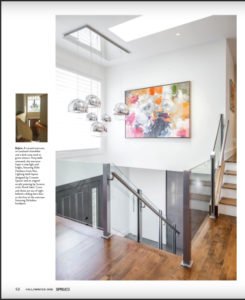 According to the homeowner, she wanted her home redesigned to be "warm and elegant and simple … I wanted people to just be able to come in and feel comfortable."
This was accomplished and the resulting open-concept floor plan, open-stringer staircase and imaginative use of pendant and lighting fixtures has created a home worthy of a feature article.
"In the morning the light fills the whole room and at sunset it fills the whole room from the other side," said the home owner. "We never had that before because the rooms were all broken up. This is a classic B.C. box floor plan and for people who have a B.C. box floor plan, well, this is what you can do."