Outlook Project Management is excited to be part of the 27th Annual Festival of Trees.
Sponsored by the BC Children's Hospital, the annual festival helps raise critically needed funds for sick kids throughout B.C.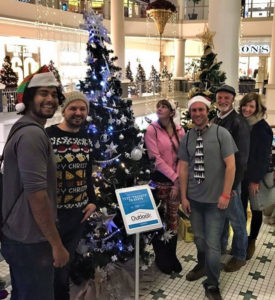 Outlook PM has joined other Victoria companies and we are showcasing our hand-decorated tree in the Bay Centre to generate donations to support the most urgent health care needs of kids in B.C. Please visit the Bay Centre, view the many fantastic tree designs and creations, then vote for your favourite by donating – every $5 donation to your chosen tree counts as one vote.  The more votes Outlook PM receives, the better our chance of winning the coveted People's Choice award.
There are two ways to vote for Outlook PM's tree:
Visit Outlook PM's fundraising page CLICK HERE
You can also text-to-vote by texting TREE072 to 45678. This is an incredibly easy way to donate, as the cost of the donation is applied directly to your phone bill. Standard data and text rates from your provider may apply.
Trees will be on display at the Bay Centre starting November 15, 2018, through January 7, 2019.
We at Outlook PM would really appreciate your support!